BLOGS
21 december 2017
SAN - FRANCISKO (на английском языке)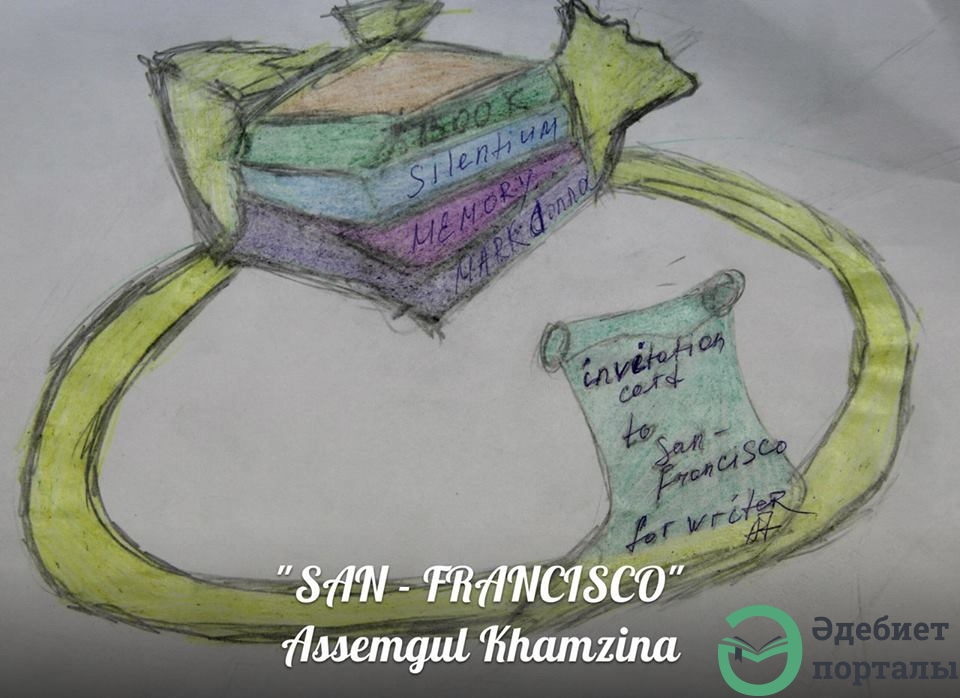 SAN - FRANCISCO
- Wake up, honey…-waking her up with a kiss whispered Steve.
After that he harries to the kitchen. Everything started to rattle. Today he wanted to surprise Susy. A minute later he was in the room. A very big bouquet of Bourbon roses with diamond ring didn't show his happy face…
-This is for you…Thank you for having 5 years together. I thank my lucky stars for having met you.
-Thank you Steve, I am very happy. There are my favourite roses and amazing ring. What can be better on this Earth?- she told kissing him.
-Susy, I have prepared everything you like; your favourite turkey and ordered dessert and haute roll, but it's high time to go, arrival is after 20 minutes.
-Stop, what are talking about?- asked Susy. Which arrival?
-I have wanted to say about the contract in which I should make a sign in San Francisco.
-Steve…-said Susy disappointedly.
-You have promised…You have promised me, Steve.. I cannot believe that you will not be with me in the very day of my birthday. I've wanted it so much, can you understand me?
He thought she was about to cry…
Everybody is going to come today. Well…Clark, Tiffany from California, Samuel Patrick. And they've prepared a great show in its honour and having 5 years together – she continued.
-I'm so sorry, I understand everything, but cannot be there. I've waited this invitation and prepared almost my whole life and our future depends on it- Steve replied.
After that Susy was confused, thoughts were messy: "If he..He keeps something from me". Why didn't he tell about it before? He put his arms around her shoulder and said: "I will not go for a long time, don't worry. I always appreciate your support and that you can easily go with me to every business trip. But now I'll go alone. By the way, I want to read your new novel. If I'm not mistaken you've said that story is about Anderson Shtone. Previous novel was bought from everywhere. And what do we expect from this novel?
-Susy smiled understanding that he is messing with her mind.
-There are only three chapters left. Wait a little…
-I'm happy. I am proud of your success as you are.
-Steve, can I walk you?
-Of course you can.
They stood as a newly married couple on the third floor of the airport. They were not only a family, they were good partners. On the landing strip she hugged him so much, as if she had seen him last time.
-May I go with you?
-No, you understand me, don't you?
-Understand.
-I love you so much; excuse me for not being with you on this big day.
-I love you too- Susy whispered.
He flew away. And she looked there for a long time. As if she waited his coming back. The big bouquet was hardly got trapped in water. Susy hurried to watch the ring, but then in the corridor she noticed a big white envelope with the script: "The invitation to San Francisco", on the other side were written the address of signing of a contract and the address of the hotel.
-I should hurry, but Steve has asked me not to come- she thought confusingly.
What will I do?-she asked herself. The thoughts were coming out: "And what if he didn't go for the contract, but to the date with somebody…He was indifferent today and he has always taken me with him…I should do something…"
Susy hurried to the airport.
-Tell me please, when is the next plane to San Francisco?
-After an hour- said the girl from the information bureau.
-Will you take a ticket? One or two?
-Leave us tickets!- was heard from the backside.
-Yes, I take it for any class- Susy said embarrassedly.
She was nervous holding the letter on the way to San Francisco. It often happens that we have more doubts doing right things, than when we do wrong.
When Steve came there he hurried to his friend Ozzie. And Susy hurried to the hotel. She has thought about cheating. -What are you doing here?- entering his room Steve asked embarrassedly.
- Darling, in a hurry you've forgotten about your envelope with the documents, and I couldn't leave you without them knowing how important they are.
-And what about guests? What about your birthday?- he continued.
-Before going here I've said to everybody about our trip.
He hugged her and whispered: "Happy birthday, my love! Thank you for always being with me!"
Assemgul Khamzina. Kazakhstan
Перевод текста: Анар Калжанова - магистр психологии и педагогики, переводчик в            г. Кокшетау.