The hundreds of Sherlock Holmes devotees who meet in Manhattan every January are getting younger and less bookish.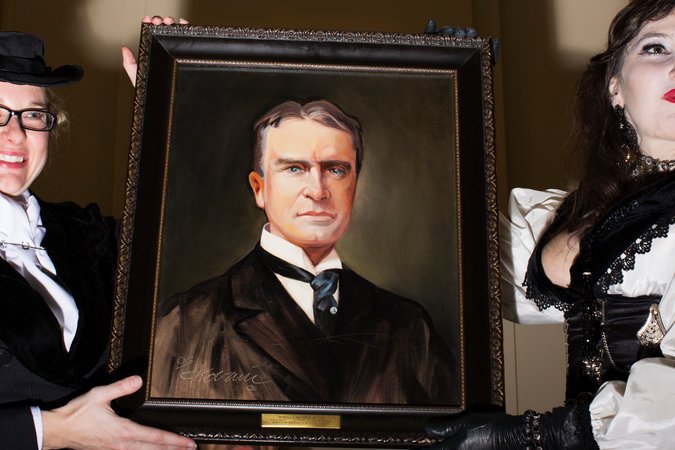 Even with his superlative sleuthing skills, Sherlock Holmes may not have recognized a costume ball held in his honor the other night.
The costumes — from a pink Easter bunny to an ironic butterfly — carried obscure references to stories written about the fictional private detective by the British author Sir Arthur Conan Doyle. The winner was an English teacher from Germany dressed as the Scottish moor, a setting from the Doyle classic "The Hound of the Baskervilles." A crew from the reality show "Cake Boss" brought in a cake shaped like a bust of Holmes.
The ball, held by a female group of Holmes devotees called the Baker Street Babes, was part of an annual Sherlock Holmes celebration organized largely by the Baker Street Irregulars, an invitation-only society of devoted Sherlockians founded in 1934.
Since then, fans of Sherlock Holmes — Irregulars and other smaller Holmesian societies from across the country — have been convening in Manhattan every January to celebrate his presumed birthday: Jan. 6, 1854. They host lectures, cocktail parties, brunches, lunches, dinners, costume galas and presentations of scholarly papers.
The Irregulars' annual banquet has become the centerpiece of five days of celebration in Manhattan attended by several hundred Sherlockians from around the world.
Weekend attendees discuss the latest books, films and television shows related to the sacred canon of Holmes' adventures: Doyle's 60 stories published between 1887 and 1927. Many wear Victorian dress, including Holmes's preferred deerstalker cap and Inverness cape.
Source: The New York Times
---

---
To copy and publish materials, you must have written or oral permission from the editorial board or the author. A hyperlink to the Adebiportal.kz portal is required. All rights reserved by the Law of the Republic of Kazakhstan "On Copyright and Related Rights". adebiportal@gmail.com 8(7172) 57 60 13 (in - 1060)
The opinion of the author of the article does not represent the opinion of the editorial board.