Sain Muratbekov was, in the make of him, a writer who writes about his personal life experience. Therefore, his novels 'A Wormwood odor' and 'At the summit of Ushkara' are autobiographical.
The author truthfully depicted a rough life of the Qazaq collective farm and complicated relations of its inhabitants. Sain Muratbekov wrote about what was close to him and loved by him. The writer had a natural gift to see, to understand, to raise in a person a good beginning and to do it without declarations, without rhetoric, but with the naturalness of a true and deep feeling.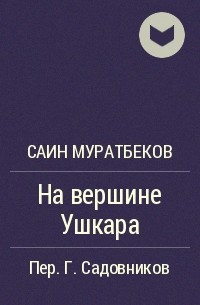 The novel 'At the summit of Ushkara' touches upon moral problems. It teaches us to distinguish between right and wrong, to find beauty around us. The novel makes readers think about the responsibility of each person for his or her own actions and deeds. It is not easy to say something new in literature, because a lot of works were written and a lot of things were already depicted and analyzed. But Sain Muratbekov was able to sound in his own way, peculiar only to his talent: the reader can feel his soft lyricism and sincerity of intonation in his works. The author is admired by such human qualities as kindness, nobility and courage, breadth and generosity of the soul, the ability to understand and accept one's mistakes. He respected people who could make decisions difficult in term of morality. People with such qualities attracted the writer first of all and he made them heroes of his works.
The unpretentious outwardly plot of the story 'At the summit of Ushkara', however, captivates the readers with its deep psychologism. We together with the hero doubt, disappoint or wait for a big love ...
Life of the heroes of Sain Muratbekov's works is full of joy and sorrow, success and failure, happy encounters and grievous disappointments. Simplicity and veracity in prose of Sain Muratbekov continues to live in his books. I would like to see these books widely read, because they retain their relevance today.
---

---
To copy and publish materials, you must have written or oral permission from the editorial board or the author. A hyperlink to the Adebiportal.kz portal is required. All rights reserved by the Law of the Republic of Kazakhstan "On Copyright and Related Rights". adebiportal@gmail.com 8(7172) 57 60 14 (in - 1060)
The opinion of the author of the article does not represent the opinion of the editorial board.