Fiction by Aigul Kemelbayeva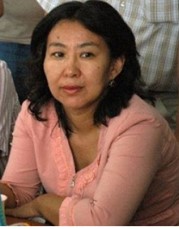 During the dissolution of the Soviet Union, a Kazakh university student in Moscow takes up work as a nanny to support herself in this excerpt from a novel by Aigul Kemelbayeva.
In September of my last year at the university, political reforms transformed the whole world. I did not immediately understand the problem, sudden as it was. The seventy-year-old fortress of the Soviet Union cracked. Each of its fifteen wings collapsed, and this resulted unavoidably in economic crisis.
It was becoming quite clear to me that I had never been taught to step outside my beloved literature and look at the real world. Now the real lessons were beginning. At first I was too startled to really grasp it. In a cruel trick, a money order arrived at the dormitory, my student heart rejoiced, and I rushed to the post office to cash it. In the palm of a post office employee that weighty sum evaporated into thin air. ''This transfer is unauthorized," she said. "We no longer hand out money from Kazakhstan. It will all be sent back." Her words sounded like a court sentence. What nonsense was this? Thinking that she must be joking, I showed her the piece of paper and my passport again. How could they send back such a large amount of money that had been sent personally to me? It was ridiculous! What right did she have to deny me the money that belonged to me? But soon it was very clear that this situation had nothing to do with the post office clerk.
What was to be done? Who was to blame? Terrible, rebellious queries stuck in my throat and started sucking my blood like a leech. You can't survive in a megalopolis with no money. That blatant reality grew stronger every day. Soon after, the same cursed post office denied me 30,000 rubles sent by telegram, then 90,000 rubles transferred conventionally, and then, in the middle of November, 50,000 rubles that my mother sent, hoping her third attempt would finally work be successful. All the paperwork for those transfers was written out in my name. The proverb was proving true: Even if it rains cloth, a slave won't get a piece big enough for an insole.
Further text is available on the link: https://www.wordswithoutborders.org/article/january-2018-kazakh-writing-sabyr-aigul-kemelbayeva-shelley-fairweather-veg?src=intro
---

---
To copy and publish materials, you must have written or oral permission from the editorial board or the author. A hyperlink to the Adebiportal.kz portal is required. All rights reserved by the Law of the Republic of Kazakhstan "On Copyright and Related Rights". adebiportal@gmail.com 8(7172) 57 60 14 (in - 1060)
The opinion of the author of the article does not represent the opinion of the editorial board.