Qairat Baqbergenov is a poet, translator, screenwriter of animation films (Kazakhstan). He is an editor at the following publishing houses "Kazakhstan"and "Writer". Qairat Baqbergenov is a chief-editor at the department of the animation on the "Kazakhfilm" Cinema Studio. The head of Computer Center at the "Vast" and "Star" magazines. The head of the Russian department of the General of the editorial board of the Writers' Union of Kazakhstan Fiction and literary translation department. He was the chief specialist of Publication department of Institute for Strategic Studies of the President of the Republic of Kazakhstan and The Institute of International Economics and Politics of the Fund of the first President of the Republic of Kazakhstan in 2002-2009.
He was born in 1 march, 1953 in Alma-Ata.
The first poems of Qairat Baqnergenov were published in journals and newspapers while he was in high school.
He writes mostly in Russian language.
Qairat Baqnergenov is a Member of the Writers Union since 1987.
In 1975 he graduated from the Literary Institute named after Maxim Gorky by specialty "Translator of fiction Literature ".
Qairat Baqbergenov is an author of the books called: "Caught the wind" (poems), "Return" (poems), "Rotisserie " (Kazakh folklore for children) and "Reflected spaces" (translation book). He translated and published into German and Serbian a number of examples of Kazakh folklore.
As an interpreter published Otto Hoffmann's tale, "Mister Tau and 1000 Wonders" (from Czech), a collection of poems by Yuri Hazhka "The Poetry of a Small Chamber" (from Upper Luzhki), Vladimir Ilich's book "AIDS: 100 Questions - 100 Answers" (from Serbian). Qairat Baqbergenov's translations of Kazakh folklore were poetry by Magjan Jumabaev, Qadir Mirzaliev, G. Autova and other poets were published in the magazines "Shift", "Friendship of Peoples", "Amanat", "Vast", almanac "House of Rostov" and other periodicals..
He is the author of a number of publications of Kazakh folklore in Serbian and German languages in the magazine "Plomie" and the yearbook "Was ist ein Glück". The author of animated films: "Invitation to the game", "Season of butterflies", "Blind", "What was not", "The gardener and the rose", "The fly", "The case on N. Street", "Whose year is better ? "," Sparrow walked along the path", in different years, screened on the " Kazakhfilm " movie studio.
Poems of Qairat Baqbergenov translated into French, German, Serbian, Kazakh and Korean languages.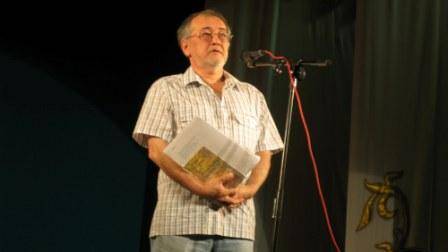 adebiportal.kz - Literary Portal
---

---
To copy and publish materials, you must have written or oral permission from the editorial board or the author. A hyperlink to the Adebiportal.kz portal is required. All rights reserved by the Law of the Republic of Kazakhstan "On Copyright and Related Rights". adebiportal@gmail.com 8(7172) 57 60 14 (in - 1060)
The opinion of the author of the article does not represent the opinion of the editorial board.