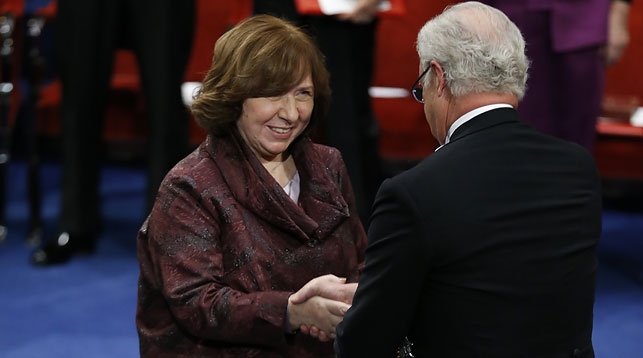 Belarusian writer Svetlana Alexievich has received her Nobel Prize in Literature. The award ceremony was held at the Stockholm Concert Hall on 10 December, BelTA has learned. The 2015 Nobel Prize winners in physics, chemistry, and medicine also picked up their awards at the ceremony. 
Svetlana Alexievich was tipped by bookies to win the Nobel Prize in Literature in 2013. However, the award was given to Canadian writer Alice Munro. According to the betting agency Ladbrokes, the list of candidates for the 2015 Nobel Prize in Literature also included Haruki Murakami (Japan), Ngugi wa Thiong'o (Kenya), Joyce Carol Oates (USA), Jon Fosse (Norway), and Philip Roth (USA).
Svetlana Alexievich is the author of "The War's Unwomanly Face," "Zinky Boys," "Enchanted with Death," "The Chernobyl Prayer," "Second-hand Time" and other books. Her works have been published not only in Belarus but also in other countries, such as the United States, Germany, the United Kingdom, Sweden, France, Japan, China, Vietnam, Bulgaria, India, and others. She has to her name 21 scripts for documentary films and three plays.
While the Nobel Prize in Literature is for a writer's life work, there are nine Literature Laureates for whom the Swedish Academy singled out a specific work for particular recognition: Mikhail Sholokhov in 1965; Ernest Hemingway in 1954; Roger Martin Du Gard in 1937; John Galsworthy in 1932; Thomas Mann in 1929; Wladyslaw Reymont in 1924; Knut Hamsun in 1920; Carl Spitteler in 1919; Theodor Mommsen in 1902.
---

---
To copy and publish materials, you must have written or oral permission from the editorial board or the author. A hyperlink to the Adebiportal.kz portal is required. All rights reserved by the Law of the Republic of Kazakhstan "On Copyright and Related Rights". adebiportal@gmail.com 8(7172) 57 60 14 (in - 1060)
The opinion of the author of the article does not represent the opinion of the editorial board.