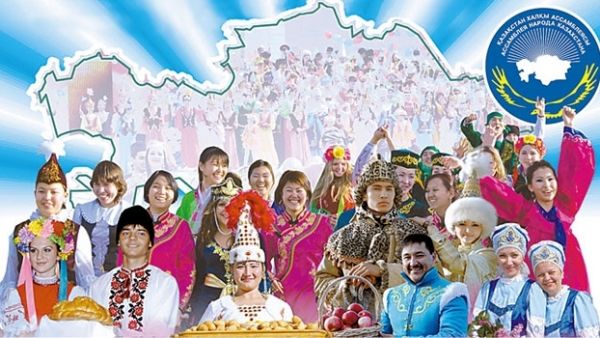 The Head of State N. Nazarbayev said, "It is considered to be the Assembly's chief responsibility to maintain civil consent in the country. Interethnic peace is just one of the aspects of the Assembly's activity. We should bear it in our mind that public consent in Kazakhstan is primarily consent among Kazakhs. Kazakhs as the hosts of the country need peace and stability more than anyone."
Moreover, when the country became independent, the German community was the third largest after Kazakhs and Russians. About 300 thousand Germans are currently living in Kazakhstan. In spite of the fact that the majority of Kazakhstani Germans returned to their ancestral land during Perestroika, some of them came back to the Kazakh country. They have been active in every sphere of life. According to the Head of State, "The intellectuals' activity is of special importance for national unity. It is the intellectuals who should lead the spiritual process of social unification." 
Some of the intellectuals mentioned by the Head of State represent the German community. They have been working hard to foster the development of Kazakhstani literature. Since Soviet time, German literature has been developing in Kazakhstan. The appearance of the Freundschaft newspaper in 1966, the founding of the German Literature Department of  the Kazakhstan Publishing House (Almaty) in (1967), German radio broadcasting in Almaty (1958), broadcasting of German-speaking programs in Karaganda, and the opening of the German Theater in Temirtau (1980) – this all took place under the auspices of Kazakhstan. In 1950s-1960s, the genre of poetry was the most thriving genre of Kazakhstani German literature. Books of poems by Rudolf Zhakmien, K.Velts, I.Varkentin, N.Vakker, G.Genke, D.Leven, R.Frank, E.Ulmer, R.Leist,  N.Vakker, O.Pladers, and others as well as prose by A.Reimgen, W.Klein, D.Golman, A.Debolskiy, G.Belger, K.Erlich, and G.Golman appeared. German poets, such as Herbert Genke, Zeni Esterreicher, and Rosa Pflueg contributed greatly to the preparation of a German translation of works by Abay. Let us study the life and works of these people in detail.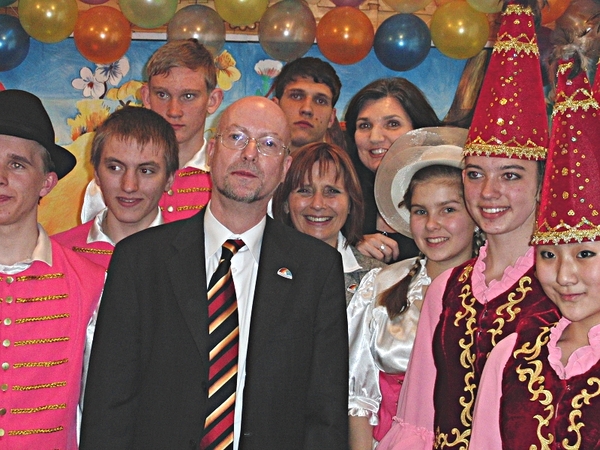 Genke, Herbert (1913–1999) was born on October 14 in Anetal, Yarunsk District, Zhitomir Region, Russia. In 1937, he graduated from Engels Pedagogic Institute. Later, he worked as an editor of German newspapers and magazines and for Kazakh radio. His first poems appeared in 1935, and his first compilation, titled "Frau Wolga" was published in 1935. He was awarded several medals.
Bibliography: Frau Wolga (German). М., Pravda Publishing House, 1938; Spring (German). М., Pravda Publishing House, 1939; The Honey Fest (German). А., "Kazakhstan", 1967; The Blue Echo (German). "Kazakhstan", 1970; Plums (German). А., "Kazakhstan", 1973; The Ladder (Russian). Poems. А., "Zhalyn" 1985; Selected Works. Poems and Short Stories. А., 1988; "Krugovorot". Poems. А., 1990.
Reimgen, Alexander (1916–1991) was born on November 18 near Krasnaya Gvardiya, Krym Region. He graduated from Feodosiya Pedagogic College and worked as a teacher and painter. He was a part-time student of Institute for Foreign Languages in Moscow. His first essays and poems appeared in 1936 inNemetskaya Tsentralnaya Gazeta (Moscow). Several books of poetry and prose were published by publishing houses in Moscow and Almaty.
Bibliography: You Have Friends by Your Side. Essays. А., "Kazakhstan", 1970; People of Our Side. Verse and Prose. М., "Sovetskiy Pisatel", 1973; No Step Back. Prose. М., "Sovetskiy Pisatel", 1976; Salty Paths. М., "Sovetskiy Pisatel", 1979; Last Wound. Prose. М., "Sovetskiy Pisatel", 1978.
Debolskiy, Aleksey (1916–1997) was born on January 13 in Kharkov, Ukraine. He graduated from the Geographic Faculty of Moscow Pedagogic Institute.  Participant of the Great Patriotic War. During the period of 1945-1954, he was working for the Press Agency of the Soviet Army and Soviet Military Administration in Germany. His literary career began in 1948, when Tägliche Rundschau in Berlin (a Soviet newspaper for Germans) published his essays. The book was signed by the assumed name of A.A. Gummels (1949, Berlin). In late 1950s and early 1960s, he wrote under the pseudonym of А.Strazhevskiy in Russian, translated several German, English, and French works into Russian. His novel "The Truth is Worth Life" (1960) and the travel essay book "From the White Sea to the Black Sea" were published. The writer translated a book of essays by L.Kernek titled "In India" (1956), the novel "Princess of Cleves" by M. La Fayette (1959), and the novel "Omen" by G.Nachbar (1963) into Russian. His novel "Fog" (1971) and humorous novelette "Such a Long Summer" (1975) appeared. His novel "Common Folks" was published in the magazines Prostor and Feniks (1993–1994). From 1966 to 1977, he was the Head of the Republican Editorial Office of Freundschaft. He was awarded the Red Star Order and the Order of the Patriotic War, class 2.
Wakker, Nelli was born on October 20, 1919 in Simferopol District, Ukraine. In 1939, she completed a two years' teaching course in Engels (Department for the German Language and Literature), and in 1965 graduated from Omsk Pedagogic Institute. She taught at schools and pedagogic colleges. Her first poems were published in 1962, in the newspaper Neues Leben printed by the Pravda Publishing House. She translated poetry by Russian and Kazakh authors into German.
Bibliography: To Peers (German). А., "Kazakhstan", 1969; The Magic Pencil (German). А., «Kazakhstan», 1975; Recognition. А., "Kazakhstan", 1978; A Clove for You. Novelettes, Short Stories. А., "Zhazushy". 1983.
Ustinov, Albert was born on February 26, 1932 in Osmeryzhsk, Kachirskiy District, Pavlodar Region. His career began in 1955, after he graduated from Kazakh State University and started to work as a schoolteacher of Russian and Russian Literature. In 1958, he was the First Secretary of Kachir District Committee of Lenin Young Communist League (LYCL), in 1959, he became the Second Secretary of Pavlodar Region Committee of Komsomol, later the first one, and from 1961 to 1965 he was the Secretary of the Central Committee of the LYCL of Kazakhstan. During the period of 1965–1968, Albert was a postgraduate student of the CPSU Central Committee Academy of Social Science. From 1968 to 1982, he was doing a party career, working as the Head of the Propaganda and Promotion Departments of the Central Committee of the Communist Party of Kazakhstan, the Deputy Head of the Culture Departments; 1982–1986 – an editor of the republican newspaper Kazakhstanskaya Pravda, later - the Head of the Propaganda and Promotion Departments of the Central Committee of the Communist Party of Kazakhstan. Candidate of Philology, author of several critical works. Order of Friendship of People, Order of the Badge of Honor, and several medals awardee.
Bibliography: An Ocean in the Drop. Critical Articles. А., "Zhazushy", 1975, The New Man: The Ideal and the Reality. Critical Articles А., "Zhazushy", 1978; The Standing Point. Literary Critical Articles. А., "Zhazushy", 1982.
Belger, Herold (1934 - 2015) was born on October 28, 1934 in Engel, Saratov Region. He wrote in German, Russian, and Kazakh. Abay Kazakh Pedagogic Institute graduate (1958). In 1958–1960, he worked as a teacher at a sovkhoz school in Baydakam, Jambyl Region; from 1960 to 1963, he was a postgraduate student at Abay Kazakh Pedagogic Institute. During the period of 1963–1964, he worked as a copyreader for Zhuldyz Magazine. The writer's artistic career began in 1964; he became the Deputy Chief Editor of the German almanac Feniks in 1992. He was a Deputy to the Supreme Soviet of the Republic of Kazakhstan (1994–1995). Author of the studies "The House in the Outskirts of a Village" (1973), "Seagulls of the Steppe" (1976), "Six Passages" (1977), "The Stone Ford" (1988, Russian, Kazakh, and German), "The Living Image of Fraternity" (1981), "Consonance" (1982), "Face to Face with Time" (1985, German), "Melodies of Three Strings" (1986), "Goethe and Abay" (1989), "Kinship" (1991), and "Chosen on Earth" (1995). He translated a number of works by such Kazakh writers as B.Maylin, Kh.Yesenzhanov, A.Nurpeyisov, A.Kekilbayev, D.Doszhanov, and others from Kazakh into Russian, and selected works by German writers – A.Geimgen, E.Konchak, N.Wakker, etc. He was the author of about 20 compilations; about 25 compilations of his works, including certain short stories and articles, have been published. B.Maylin Writers' Union of Kazakhstan Prize awardee (1988), Merited Artist of the Kazakh SSR (1987), President Prize of Peace and Spiritual Concord awardee (1992), member of the RK President National Council for State Policy. Parasat Order (1994), Kazakhstani PEN-Club Prize (1996), and Altyn Samruk Prize (2007) awardee.
Bibliography: Faces of the Word. Essays. А., "Bilim", 1996; Remember Your Name. Article Compilation. А., "Gylym", 1999; Talking Soft at Noisy Junctions. Essays. А., "Arys", 2001; Sketches on Translation, I.Zhansugurova. А., "Gylym", 2001; The Trace of the Word. Literary Portraits. А., "Zhazushy", 2002; The Home of a Vagabond. A Novel Astana. "Audarma", 2003; Spiritual Harmony. Articles and Essays. Moscow. "Rus. Kniga", 2003; Autobiographical Sketches. А., "Zhibek Zholy", 2004; Tuyuksu. A Novel А., "Daik Press", 2004; El. А., "Gylym", 2005; Talking Rubbish. Journalistic Works. А., "Gylym", 2006; Munartau. Short Stories. А., "Olke", 2006; The Tule. А., "MKA", 2007; Discord. A Novel А., "Zhazushy", 2008; Kazakh Words. А., 2009.
Leis, Reinold was born in 1940 in Gissenbach, Frank District, Saratov Region. Having completed a seven-year school course, he worked in ММКR, learnt to be an agricultural equipment maintenance technician. It was his trade for five year, though he occasionally did some truck unloading and construction work. Having left secondary school in 1958, he was sent to Pologayevko, Omsk Region, to work as a German teacher. In 1962, he entered the Department for the German Language and Literature of M.Gorky Omsk Pedagogic Institute. After graduation, he taught at Novoalekseyevka Eight-year School for a year. In 1967, he found a job as an assistant at Sh.Ualikhanov Kokshetau Pedagogic Institute.  He taught German and German Literature. His first poems were first published in 1963 in the newspapers Neues Leben and Rote Fans. His works have been appearing continuously in periodical literature since then.
Weidman, Leonid (1940–2001) was born on May 1 in Taldykorgan. Having left secondary school in 1957, he worked at the editorial office of Krasnoye Znamya. Part-time graduate of Kazakh State Institute. Later, he worked at the editorial office of the republican newspaper Freundschaft. In 1993–1995, he was the Chief Editor of the Feniks almanac. Merited Artist of the Republic of Kazakhstan. Weidman moved to Germany in 1995. In early 1970s, he began to work in the belle letters genre along with non-function. The Kazakhstan Printing House published four books of his short stories and essays – "Notes of a News writer", "Tell Me Who Your Friend Is",  "Try and Love Judas", and "The Moment between the Past and the Future" (German). His novelette "Gray Fog at Dawn" and translations from German were published by the Zhazushy Printing House in the compilation "In the Steppe Land".
Erlich, Konstantin was born on March 24, 1948 in Odessa District, Omsk Region.  He graduated from the Foreign Language Faculty of Omsk Pedagogic Institute in 1975. Erlich has worked as a schoolteacher; he has been correspondent; he has translated for Region and Republican Radio; he has also worked as the Chief Editor of the Kazakhstan Publishing House. Author of a prose book titles "Sketch". Erlich has translated such books as "Kunikey, Who is as Beautiful as the Moon", "The Three Sons of a Poor Man", "Kazakh Tales", and "Uygur Tales" into German.
Apart from the abovementioned persons, many more writers have made a significant contribution to the progress of Kazakh literature and culture.
---

---
To copy and publish materials, you must have written or oral permission from the editorial board or the author. A hyperlink to the Adebiportal.kz portal is required. All rights reserved by the Law of the Republic of Kazakhstan "On Copyright and Related Rights". adebiportal@gmail.com 8(7172) 57 60 14 (in - 1060)
The opinion of the author of the article does not represent the opinion of the editorial board.