Ministry of Culture of Kazakhstan presents "Magic Songs of the Eternal Steppe", two Gala concerts in celebration of Kazakhstan Cultural Days in the United States.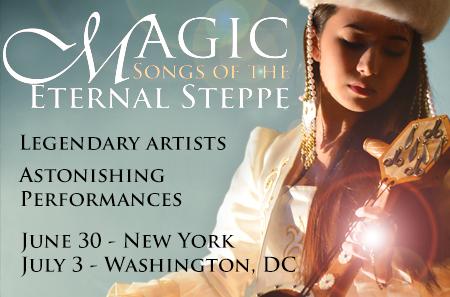 The first concerts took place on June 30, 2014 at Carnegie Hall, New York, Perelman Stage/Stern Auditorium. The second one will be held on July 3, 2014, 8 pm, at The John F/Kennedy Center for the Performing Arts, Concert Hall (tickets are available in the box office and 
online
).
Concerts will feature a unique blend of Kazakh folk music and Western classic masterpieces as well as American songs performed by the world-known Kazakh National Kurmangazy Orchestra of Folk Instruments, Kazakh National Baikadamov Choir and a group of renowed Kazakh Soloists. 
About "Magic Songs of the Eternal Steppe"
Kazakh American Association presents
Magic Songs of the Eternal Steppe
Kazakh State Academic Kurmangazy Orchestra of Folk Instruments
State Choir Chapel of Kazakhstan
Arman Zhudebaev & Erbolat Ahmediarov, conductors
Kazakhstan is the eternal land. Endless steppe spilling out into the horizon, cascading mountains piercing cloud and sky, the Silk Road stretching across countless valleys, forests, and fields. For thousands of years Kazakh artists have drawn their musical inspiration from this enchanting landscape.
This extraordinary concert takes you on a journey to the great Silk Road through the unrivaled technique and passion of Kazakhstan's greatest musicians, composers, and vocalists. The program includes orchestral selections; duets, trios, and more from Kazakh classical operas and Western operas performed by the leading soloists of Kazakhstan's opera houses; and vocalists performing Kazakh songs accompanied by musicians from the best traditional music schools playing dombra and other ethno-folklore instruments. 
Performance Timing: 90 minutes, with no intermission.
---

---
To copy and publish materials, you must have written or oral permission from the editorial board or the author. A hyperlink to the Adebiportal.kz portal is required. All rights reserved by the Law of the Republic of Kazakhstan "On Copyright and Related Rights". adebiportal@gmail.com 8(7172) 57 60 14 (in - 1060)
The opinion of the author of the article does not represent the opinion of the editorial board.