Every day in the Louvre tourists go and admire the greatest masterpieces of painting. They do not even look at them or look at them, but not for long. Mostly their eyes only glide over the tablets, which indicate the way to the painting "The Mona Lisa. La Gioconda". And finally, they notice it, look very long, everyone wants to admire it, as long as possible...
What is so special about it that it provides such great glory? What miracle does Mona Lisa still cause so many passionate admirers and is able to attract crowds of people to her?
Leonardo da Vinci in the painting "Mona Lisa" conveyed the depth of the atmosphere with such perfection that it was this picture that was the best.
Perhaps no painting is as popular as Mona Lisa. For sure, each in his own way tried to reveal the secret of this picture. And we should not ignore the version, which was written by the Kazakh poet Miras Asan.
The author at the beginning of his work wonders why the secret of this picture is not open. And with the help of the poet's next rhetorical question, one can understand that Mona Lisa should not just smile, because she knows how to cry...
| | | |
| --- | --- | --- |
| English free way of translation | Original Kazakh language poem | Original Russian language poem |
| The mystery of the painting is still not open, | Сурет сыры ашылған жоқ әлі де, | Тайна картины до сих пор не открыта, |
| So many centuries, why is it hidden? | Мұнша ғасыр ашылмауы мәні не? | Столько веков, от чего ж она скрыта? |
| In her soul she will always cry, | Жылап тұра бермекші ме мәңгілік, | В душе вечно плакать будет она, |
| After all, not only should she laugh at you?! | Күліп тұра бермекші ме бәріңе?! | Ведь не только смеяться она вам должна?! |
The author calls the picture a riddle of time and does not miss the versions of other authors. They say that her child died and she experienced many hardships, and tries to hide her grief behind her smile.
| | | |
| --- | --- | --- |
| Mona Lisa - is a Time riddle, | Мона Лиза – уақыттың жұмбағы, | Мона Лиза – времени загадка, |
| Smiles always, everything is smooth. | Қашан көрсең езу тартып тұрғаны. | Улыбается всегда, все гладко. |
| They say that her child died, | Баласы өлген әйел дейді біреулер, | Говорят, что ребенок ее умер, |
| And maybe, it was necessary to live it was not sweet ... | Тауқыметтің батқан дейді тырнағы... | А быть может, жить пришлось не сладко... |
All people in the world love their mothers, and try to make them happy. And we must not lose the option that, perhaps, Leonardo wanted to please his mother. Indeed, this issue worries all scientists, with each year they are more and more.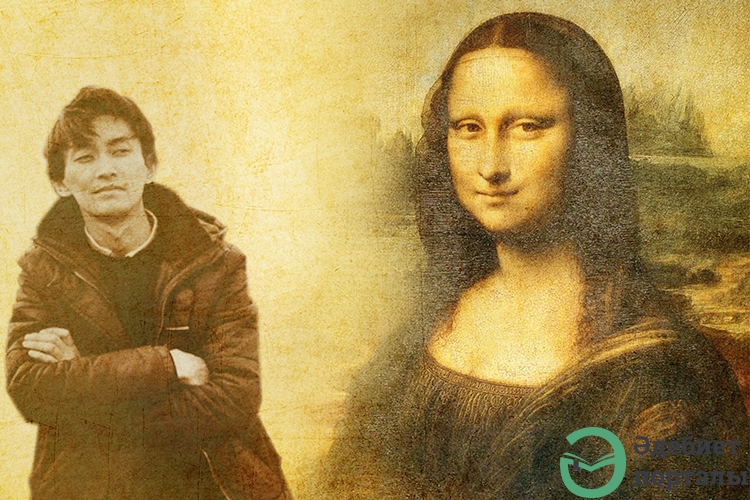 | | | |
| --- | --- | --- |
| All people care about this issue, | Пенделердің есін алған сұрақ бұл, | Всех людей волнует этот вопрос, |
| The answer to it is not complicated, it is simple; | Сонша қиын сұрақ емес бірақ бір; | Ответ на него не сложный, он прост; |
| Mona Lisa is a kind of Leonardo, | Мона Лиза – Леонардоның өз түрі, | Мона Лиза – вид самого Леонардо, |
| Between laughter and tears..To create a wanted bridge!.. | Тағдырына күліп, мүмкін...жылап тұр!.. | Между смехом и слёзами... создать хотел мост! ... |
Miras Asan created a new story of Mona Lisa! You can say that he revealed the mystery of this picture in his own way. Mona Lisa - this is himself Leonardo, maybe this picture he wanted to show his state of mind, who would know?
adebiportal.kz – Literary Portal
---

---
To copy and publish materials, you must have written or oral permission from the editorial board or the author. A hyperlink to the Adebiportal.kz portal is required. All rights reserved by the Law of the Republic of Kazakhstan "On Copyright and Related Rights". adebiportal@gmail.com 8(7172) 57 60 14 (in - 1060)
The opinion of the author of the article does not represent the opinion of the editorial board.