NoViolet Bulawayo has won the 2014 PEN / Hemingway Award for Debut Fiction for her novel, We Need New Names. Her book was chosen from a list of three finalists including The Residue Years by Mitchell S Jackson and The Old Priest by Anthony Wallace, with four other books being given an honorable mention.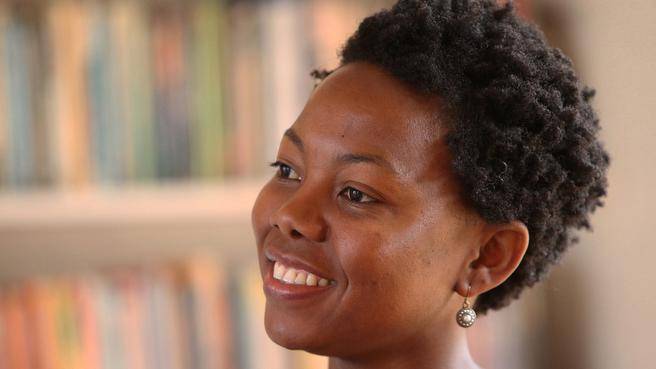 The award, which goes to novels or short stories by American authors writing fiction for the first time, was established in 1976 by the late Mary Hemingway in memory of her husband, Ernest Hemingway. The award is funded by the Ernest Hemingway Foundation and administered by the Hemingway Society and PEN New England.
Bulawayo will receive the prize of $10 000 and a one-week residency in The Distinguished Visiting Writers Series at the University of Idaho's MFA Program in Creative Writing. All the finalists and "honorable mentions" will also receive Ucross Residency Fellowships at the Ucross Foundation, a writers' and artists' retreat in Wyoming, US.
Other familiar names on the list of past PEN / Hemingway Awards winners include Chris Abani, who won in 2005 with Graceland, and Teju Cole, who won in 2012 for Open City.
Bulawayo will be honoured at an event in Boston on Sunday 6 April, which will be free and open to the public.
Congratulations to Bulawayo for this latest feather in her cap. She also won the inaugural Etisalat Prize for Literature last month and the Caine Prize for African Writing in 2011. We Need New Names was also shortlisted for both the Man Booker Prize and the Guardian First Book Award.
---

---
To copy and publish materials, you must have written or oral permission from the editorial board or the author. A hyperlink to the Adebiportal.kz portal is required. All rights reserved by the Law of the Republic of Kazakhstan "On Copyright and Related Rights". adebiportal@gmail.com 8(7172) 57 60 14 (in - 1060)
The opinion of the author of the article does not represent the opinion of the editorial board.