-Master Hai Tong! - someone excitedly shouted the elderly monk standing on the shore. The wind was quietly rattling his red-orange cloak. Master watched intently as a giant statue of Maitreya, the Buddha, was erected on the opposite shore.
-It's a beautiful day, master! - Panting from quick walking, said the young monk. "I brought you good news!" Merchant Wu donated us gold coins!
-Great news, Xu Pei! – Good job, you're doing fine! - The master was delighted. - Then go today to Hu and hire some more workers. Do not forget to buy picks and ropes. We need to speed up the work.
- Ok, master!
Xu Pei looked at Hai Tong's sunken eyes and asked carefully:
- You have not eaten anything for two days ... Can I bring you at least some rice?"
- Do not worry, - the master smiled, - I'm not hungry at all.
- Maybe there's something else I can do for you?
- No, no ... It will be better if you'll hurry up!
The young monk bowed respectfully and quickly left him.
Hai Thun turned his gaze to the face of the stone Buddha - his lowered eyelids, an unearthly smile radiated serenity.
- Oh Maitreya, help us to finish what we started!
At that moment a strong foreboding appeared in the depths of the master's heart, flickering with an obscure vision. Hai Thun shook his head, wishing to drive it away and, closing his eyes, began to focus on praying.
Hai Tong was given to the monastery at an early age, and since childhood he has shown patience, even for adult monks, slept a small time, and did not eat much and prayed longer than others. He was not afraid of the most difficult work and therefore monks and lay people loved and respected him. For truthfulness, long-standing asceticism and mercy of him Hai Tong was still young elected as rector of Linyun Monastery.
***
A cold river washed the banks of red sandstone. The sun on this day was especially bright, why the river was azure. The sides of fishing and trading boats cut off the breakers of the waves with their noses. Boatmen with strained faces swam the dangerous section of the confluence of the three rivers. The current became particularly strong here. Even the most experienced did not always cope with his fierce torrents.
Several boats sailed along the most insidious place with a lot of whirlpools. Suddenly, the stern of one of the boats began to enter. Her nose plunged under the water, and water began to sweep inward, after which she tilted and turned abruptly. Boxes, bales and people were in cold water. Two people who fell into the water struggled desperately for life, trying to grab floating objects. Several boats were already heading toward the sinking. Someone shouted from the shore and called for help. For a while, it was clear how two unfortunate people were fighting desperately against the elements, but a minute later they disappeared in stormy waves. The inverted boat was carried along with the current, and soon it disappeared altogether.
At that time, Hai Tong was walking with the disciples along the shore and saw people dragging a dead body out of the water and laying it on the sand. Onlookers began to come running to the place. Among the people there was a murmur:
- Again dead! .. Every month, someone is drowning! Said the gray-haired peasant.
-Where's the second drowned man? - Asked the tall man, wearing a straw hat.
-At the bottom, I guess ...- the thin, wiry fisherman answered, coughed.
-This evil dragon Jiao-lun lives at the bottom of the river! .. He creates whirlpools, so the boats are drowning ... and with them, and people ... Whom he will not eat, the water swallows! .." said a hunched and toothless old woman, dressed in rags.
Hai Tong mournfully looked at the people, sighed heavily and said to the disciples:
- Time to go!
Witnesses of the tragic event on the river were many monks, and they waited for Hai Tong to tell them something important, but he was silent. Only a few days after the Morning Prayer, he addressed his disciples with these words:
-It's the third day that I've been having the same dream." The great face of the compassionate Maitreya manifests itself in Lingyunshan Mountain, just above the spot where two unfortunates drowned a few days ago. Today, being in meditation, I heard His call - we must help people! We will enlist the help of Maitreya to pacify the elements, and today we will begin to collect money for the construction of his statue. It will be as big as Lingyunshan Mountain ... And to drive out the evil dragon, we will throw stones into the water!
The monks listened with surprise.
-But the master!-His devoted pupil Xu Pei was worried. -Even for the emperor, this goal can be difficult to achieve! - Our monastery is not rich, and for construction hundreds of workers are needed and a lot of money!
- A true sage can think, wait, and know how to make efforts! "Hai Tong answered firmly, then turned to Eme-shan, the holy mountain, prayerfully folded his hands and, bowing, said:
-At Mo Amito Fo *!"
_______________________
* I take refuge in Amitabha Buddha
***
In an expensive tavern, among the narrow streets of Leshan, at a small table sat two people and drank wine. These were two well-known city dignitaries who successfully moved along the career ladder of the Tang Empire. Thick, with a red face, small beard and bulging eyes, Liu Wei, since childhood he has been lazy, selfish and greedy. Although he came from a rather aristocratic family, he was always ready to serve the stronger. He became an imperial official only thanks to the patronage of his influential relatives, because during his studies he was unable to show proper intellect or diligence. The main Imperial exam "Keiju", which was obliged to give up every future high-ranking employee, Liu Wei failed miserably - he was simply convicted in an attempt to use a cheat sheet, which he inscribed in the floor of his robe. A strict examiner noticed this and threw him out in disgrace. On this future career Liu Wei could end forever, but a month later he was already recruited.
A yellow-faced, lean, with a long mustache and beard, Shen Fu, never had patrons. He achieved everything himself, thanks to intelligence, cunning, and sometimes cruelty. Sheng Fu was profitable to be friends with Liu Wei and, if necessary, he used the connections of his high-ranking relatives.
The agile servant of the tavern bowed respectfully and set before the guest's appetizing dishes and various seasonings. Tortoise soup, fried rice, chicken with peanuts and hot pepper, set Liu Wei to philosophical harmony. Looking forward to a pleasant meal, he even remembered the great Kung Fu Zi:
-A well-prepared dish, it's the same art as a well-governed state!-
And then he added enthusiastically:
- May our Emperor be blessed for always taking care of our good!
Companion Liu Wei with a grin looked at his big round belly and, unhurriedly taking a sip of wine from a fine porcelain cup, said:
"An official who follows the path of jen * will always find the opportunity to remember our great teacher Kuhn! .." and adding another sip, "you and I should go to the trader Chu today, I heard that his caravan returned from the north with a good one Profit.
-Is that so? - Liu Wei was surprised.
-Have you heard of the monk Hai Tong? - Sheng Fu asked, screwing up his mischievous eyes.
-Is this the one from Linyun Temple? - hurriedly chewing and champing, said Liu Wei.
- Yes!
- And what?
- They say that in ten years he collected thousands of lanas of gold and silver for the construction of the Buddha statue ... I'm here, I think, but should not we ask him to share with us?
They exchanged understanding glances and, without saying a word, laughed.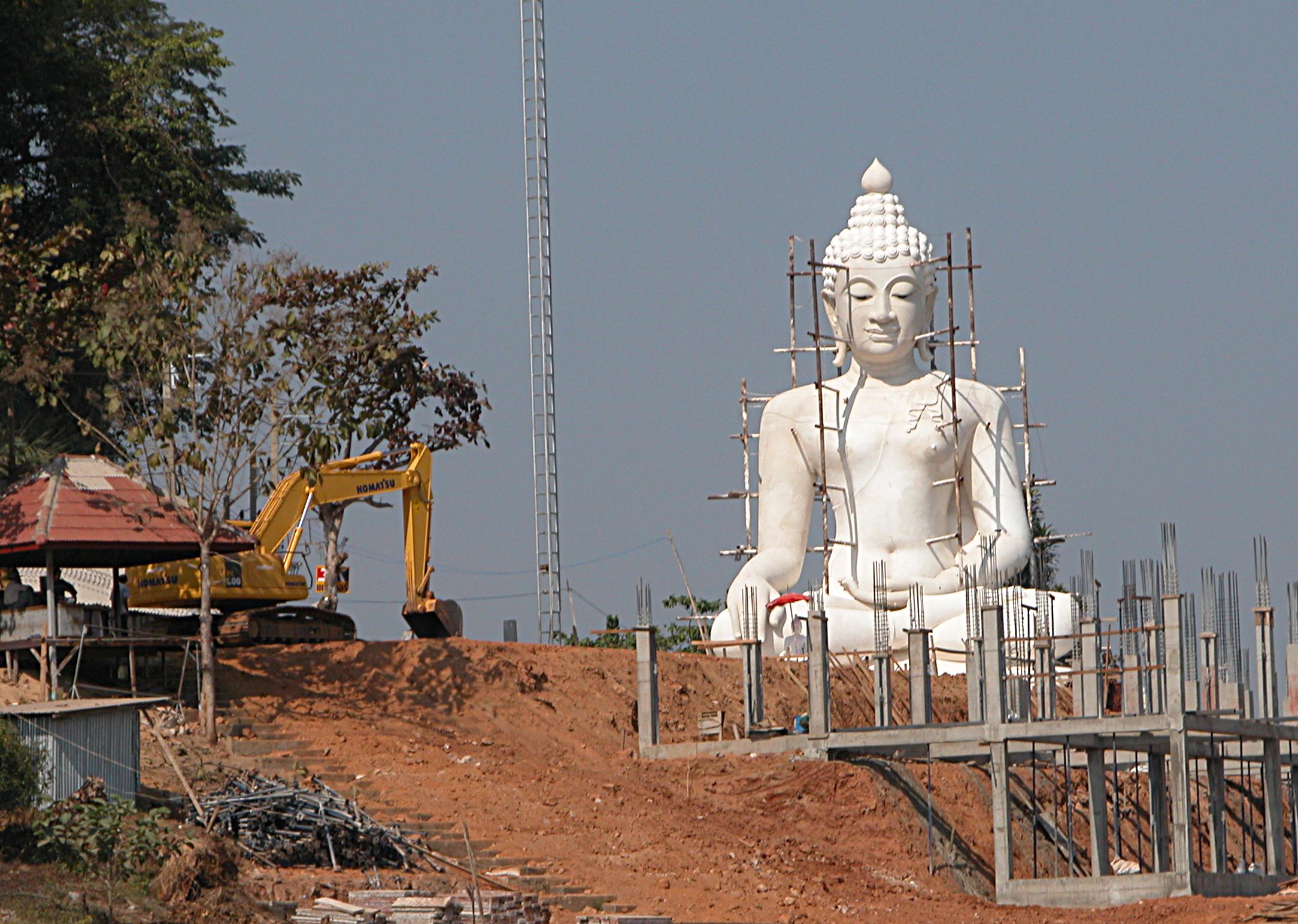 ***
Inside the monastery yard stood a stone well. The curved ends of the ancient pagodas, facing the sky, rose above the surrounding forest monastery. The monk, who was picking up water in the well, poured it into a huge clay tank, from which she, running along a long bamboo trench, ran into the monastic kitchen.
The monks read the sutra of Amitabha monotonously - sorting through small wooden rosaries. A dozen lamps burned, and the incense burned steadily.
-Master! .. They've come to you!" Said the monk quietly, bowing to Hai Tun. Without asking anything, Hai Tung got up and left.
In the courtyard stood two people dressed in Hanfu, belted with wide belts. The large sleeves of their silk robes dangled below their knees, their heads covered with tall hats. From under the clothes, the square noses of their embroidered silk fabric shoes looked out. Welcoming Huy Tong, they bowed respectfully, and he politely answered them.
-I'm Sheng Fu, and this is Liu Wei. - We are dignitaries from the financial prefecture of Leshan - said Sheng Fu.
- How can I help you? Hai Tong asked.
-As you know, the emperor always cares about our state, - he began from afar, -and we, in turn, serve him according to all the canons of the great Kung Fu Zi. - Our Tang Empire knows no equal in the Middle Kingdom! We generally prosper only thanks to the emperor!
- Serving Amitabha, we also serve the emperor! - Said Hai Tong.
- Yes of course! Your business is important - he piously lifted his eyes to the sky - but sometimes things become more important than heavenly ones ... Perhaps soon the emperor himself will visit our city, and then we really need your help!
- So what is your request? - Hai Tong asked.
- We know that you raised a lot of money for the construction of a giant statue of Buddha, and we just need to take care of the beautification of the city, pave the streets, and, you know, how many more worries will fall on our shoulders ... With your construction, we think, it is possible while to wait, and for city already now it is necessary a lot of money. Leaning closer to Hai Tong, Sheng Fu insinuatedly said:
- You yourself know that everything in this world is transitory, even the Buddha whom you are building, will sooner or later touch the decay...
-Yes, everything is transitory in this world,- Hai Tong said sternly, "but those who do not foresee the path to Nirvana are especially transient!"
Sheng Fu's face froze, his lips tightened, his eyes flashed. A second later, having coped with himself, he smiled, but it was much more strained, and, hiding his irritation, said:
-I understand that it's difficult for you to give us an answer immediately. - We are human servants and patient, but for a good cause we are ready and wait. However, I want you all to know - Sheng Fu looked threateningly into his eyes - those who do not help us, face oh-very big trouble! - face Sheng Fu, again took a friendly expression and he gently continued. "However, we very much hope that you will act wisely." In the near future, we are still visiting.
The dignitaries bowed politely and left the monastery court.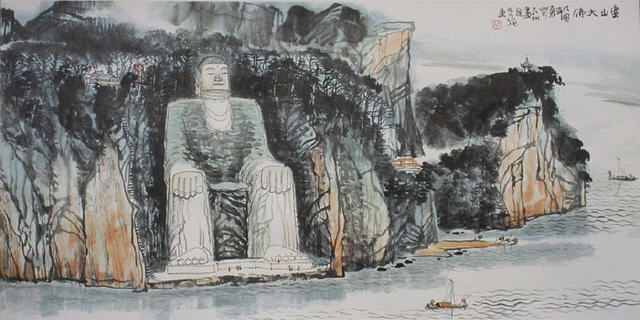 ***
In a cliff-colored red cliff, hundreds of workers tied with ropes, like crawling ants on the wall, have done their hard and dangerous work. The serene face of the Buddha appeared from the rock. His half-closed eyes looked at the sacred mountain Emei-shan. The pieces of sandstone were broken off and fell into the stormy waters of the river with a noise, spewing out large sprays.
Hai Tong from the opposite shore daily observed the progress of work. He was deep in thought, but the trampling of hoofs and the noise of the wheels distracted him from meditations. Suddenly, almost close to him, drove the chariot with signs of imperial differences, it was harnessed by thoroughbred stallions and decorated with a bamboo umbrella depicting a dragon. Two familiar dignitaries descended from the steps and, walking up to Hai Tong, bowed haughtily.
-Well, what decision did you make? - Do not be ceremonious,- asked Shen Fu.
Hai Tong looked at their faces, and boldly replied:
- We collected this money all over the country for many years, and they will go to the top of the shu to erect a Buddha statue!
- I think you did not understand what problems you can incur on yourself by refusing to us! Sheng Fu said menacingly.
- I understood everything, my decision is unshakable!
The official turned pale, his lips trembled, and he extended his hand forward, and, pointing his index finger at Hi Tong's face, shouted:
-If you do not give us this money, I'll order you to put out your eyes!"
Hai Tong looked round Sheng Fu's face, his crooked mouth, clenched teeth, shifted brows and took a step back. At that moment, Hai Tong crossed that line beyond which the official's voice was no longer audible. The space around Hai Tong expanded and became immense. He was filled with the sound of falling stones, water splashes, knocking of the picks and sounds like unearthly music. The sky above the Buddha's head was filled with a bright glow. The Buddha was staring into an unreasonable distance, and Huy Tong's face showed a great smile.
-What is meant for the Buddha belongs only to him!" He said in a calm and reverent tone. -Do you want my eyes? .. Well, so take them!" He squeezed his eyes shut with his thumbs, pressed his eyelids hard. Blood and eye fluid splashed on the faces and clothes of dignitaries.
They recoiled in horror, covering their faces with their hands. In their rounded eyes read a fright. Stepping back, the sluggish Liu Wei stumbled and fell - the hat flew off his head.
- What are you doing ?! - Shuang Fu screamed in a fright. - I'm crazy!
Hai Tong stood with a blissful smile on his face, blood drained slowly onto his clothes.
-Exactly crazy! - - With fear and contempt, pronounced Sheng Fu.
Without saying anything more, the dignitaries, stumbling, rushed hastily to the chariot. He jumped into it; they quickly raced off, leaving Hai Tong alone.
Hai Tong stood for a while, not moving. Then, turning towards the Buddha, he slowly sat down on the sand. The wind blew unhurriedly, waving his red-orange cloak. Master sat firmly and motionless, and from his coalesced ages on the cheeks red threads stretched wispy trickles of blood.
On the opposite shore the worker, working with a bit of stone, suddenly noticed that thick moisture was flowing through his hands. He looked up and saw the crimson drops dripping from the undisturbed eyes of the Buddha.
The wind has died down and the waters of the river have stopped at the feet of the Stone Buddha.
_______________________
* Confucius
* Ren - the highest virtue of Confucianism - consisting of five other virtues that must have a noble man. Expressed in love for one's neighbor, caring for people, humanity.
Translated by Akhan Tuleshov, Author Rinat Abuzyarov.
adebiportal.kz – Literary Portal
---

---
To copy and publish materials, you must have written or oral permission from the editorial board or the author. A hyperlink to the Adebiportal.kz portal is required. All rights reserved by the Law of the Republic of Kazakhstan "On Copyright and Related Rights". adebiportal@gmail.com 8(7172) 57 60 14 (in - 1060)
The opinion of the author of the article does not represent the opinion of the editorial board.