The Shock of the Fall up for debut book award
The Shock of the Fall by Nathan Filer leads the ten books longlisted for this year's Desmond Elliott Prize, awarded to first-time British or Irish writers.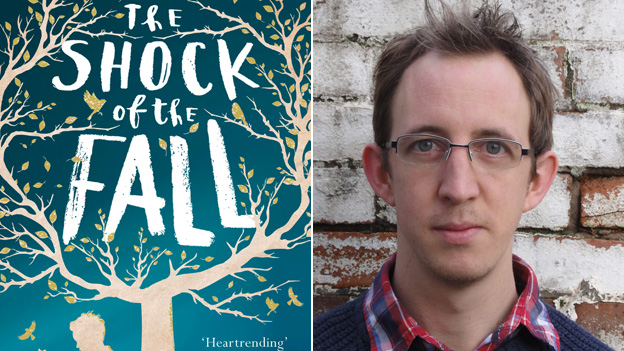 Nathan Filer's debut novel is about a man coming to terms with his schizophrenia
Filer's debut novel about guilt and mental health was awarded this year's Costa Book of the Year Award.
Eimear McBride's acclaimed A Girl is a Half-Formed Thing also features on the list, which took nine years to publish after being rejected several times.
Forward Prize-winning poet Kate Clanchy is also in the running.
Her debut novel, Meeting the English, is set in London's Hampstead during 1989 and follows 17-year-old orphan Struan Robertson, who leaves Scotland to care for a stroke-victim.
McBride's nominated story was also shortlisted for the inaugural Folio Prize and tells the story of a young woman's relationship with her brother, and the shadow cast by his childhood brain tumour.
Filer, who lectures in creative writing at Bath Spa University, won wide critical acclaim for his novel which follows Matthew as he comes to terms both with his brother's death and his own schizophrenia.
It was called "ambitious and exquisitely realised" by best-selling writer, SJ Watson, who was himself nominated for The Desmond Elliott Prize in 2012, for his book Before I Go To Sleep.
Here is the longlist in full:
The Letter Bearer by Robert Allison
Idiopathy by Sam Byers
Meeting the English by Kate Clanchy
The Shock of the Fall by Nathan Filer
Sedition by Katharine Grant
The Dynamite Room by Jason Hewitt
A Girl Is a Half-Formed Thing by Eimear McBride
The Spinning Heart by Donal Ryan
Marriage Material by Sathnam Sanghera
Ballistics by D. W. Wilson
The prize is presented in the name of celebrated publisher and literary agent Desmond Elliott, and is aimed at helping up-and-coming novelists further their careers.
The shortlist will be announced on 26 May, with the overall winner of the £10,000 prize revealed at a ceremony on 3 July.
"British and Irish writing is in the best shape it's been for many years," said chair of the judges, author Chris Cleave.
"The strength of these ten astonishing novels proves that our home-grown talent is world class."
---

---
To copy and publish materials, you must have written or oral permission from the editorial board or the author. A hyperlink to the Adebiportal.kz portal is required. All rights reserved by the Law of the Republic of Kazakhstan "On Copyright and Related Rights". adebiportal@gmail.com 8(7172) 57 60 14 (in - 1060)
The opinion of the author of the article does not represent the opinion of the editorial board.