Surreal correspondence reveals intense but 'un-synchronized passion' between the literary and cinema icons.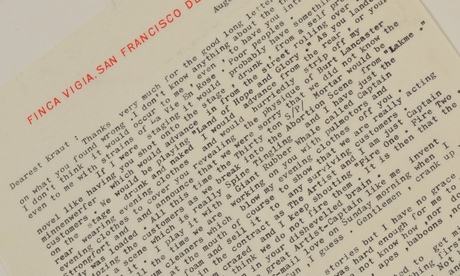 A Giant Rubber Whale called Captain Ahab writes .. Ernest Hemingway's 1955 letter to Marlene Dietrich
A surreal, graphic letter from Ernest Hemingway to Marlene Dietrich, in which the author addresses the film star as "Dearest Kraut" and imagines her "drunk and naked", is set to be auctioned to the public next week.
The pair first met on the New York-bound liner Île de France in 1934 and went on to enjoy a lifelong friendship. Although their letters to each other were full of feeling, they never became lovers, with Hemingway once calling them "victims of un-synchronized passion. Those times when I was out of love, the Kraut was deep in some romantic tribulation, and those occasions when Dietrich was on the surface and swimming about with those marvellously seeking eyes, I was submerged".
In his 1955 letter to Dietrich, signed Papa, the Nobel prize-winning writer responds to her complaints about her Las Vegas show, saying that if he were to stage it, "it would probably have something novel like having you shot onto the stage, drunk, from a self-propelled minenwerfer".
"As you landed on the stage drunk and naked I would advance from the rear, or your rear wearing evening clothes … and announce that we were sorry that we did not know the lady was loaded," Hemingway wrote, later saying that the pair would then "break into the Abortion Scene from [French opera] Lakme".
"This is the scene which is really Spine tingling and I have just the spine for it," he wrote. "I play it with a Giant Rubber Whale called Captain Ahab … You are foaming at the mouth of course to show that we are really acting and we bottle the foam and sell it to any surviving customers."
The letter will be included in the online auction of a number of Dietrich's possessions on 17 March, and is expected to fetch up to $50,000 (£30,000). It was written six years before Hemingway's suicide, during the filming of The Old Man and the Sea. The author was involved with the making of the film at the time, writing to Dietrich of the difficulty of finding a large enough fish to represent the story's famous giant marlin. "Started OK on fishing – one 472lbs and on 422lbs. Very good close shots of harpooning at the end but fish too small even in Cinemascope for what we need … "
He goes on to tell Dietrich: "I love you very much and I never wanted to get mixed in any business with you as I wrote you when this thing first was brought up. Neither of us has enough whore blood for that. Not but what I number many splendid whores amongst my best friends and certainly never, I hope, could be accessed (sic) of anti-whoreism."
Although the bulk of Hemingway's papers – including 30 letters from the author to Dietrich – are housed at the John F Kennedy library in Boston, a few of the letters were kept by Dietrich's grandchildren, who are auctioning hundreds of Dietrich's possessions online later this month. The 28 August 1955 "Dearest Kraut" letter, said auctioneer Auction My Stuff, is "the first Hemingway letter to Marlene Dietrich to become available at public auction since 1997", and "holds a wealth of promiscuous, provocative imagery and language rife with double entendres".
It ends, however, on a bleak note: "I think you could say you and I have earned whatever dough the people let us keep. So what. So Merdre. I love you always."
Source: http://www.theguardian.com/
---

---
To copy and publish materials, you must have written or oral permission from the editorial board or the author. A hyperlink to the Adebiportal.kz portal is required. All rights reserved by the Law of the Republic of Kazakhstan "On Copyright and Related Rights". adebiportal@gmail.com 8(7172) 57 60 14 (in - 1060)
The opinion of the author of the article does not represent the opinion of the editorial board.