Presentation of the first bilingual book (Spanish/Kazakh) «Circles of hell» by Spanish poet 
Justo Jorge Padron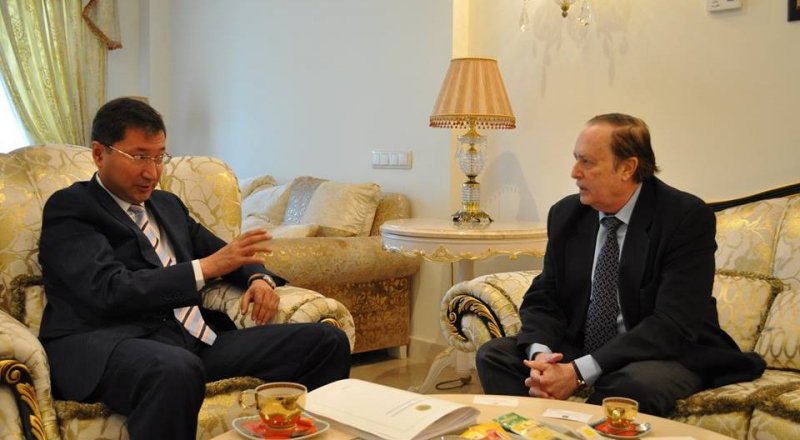 Astana, April 29, 2015, 10:00 a.m. the Main building of the L.N.Gumilev Euroasian National University. The presentation of the «Circles of hell» the first bilingual book (Spanish and Kazakh) written by Spanish poet, winner of numerous awards Justo Jorge Padron will take place.
H.E. Mr. Manuel Larrotcha Parada, Ambassador of Spain in Astana, Mr. Erlan Sydykov, rector of the L.N.Gumilev Euroasian National University, and the poet and the author of the book Justo Jorge Padron will be in attendance. 
The book «Circles of hell» was awarded the Fastenrath Award given by the Spanish Royal Academy as «The best poetic book of 1973-1977». Also the book was awarded on a biennale of Association of the Swedish writers as «The best European poetic book of 1975-1976».
The book is translated into more than thirty languages. This bilingual edition (Spanish and Kazakh) «Circles of hell» is the first Spanish poetic book translated to the Kazakh language. Translator is the Kazakhstan poetess Tanakoz Tolkynkyza.
---

---
To copy and publish materials, you must have written or oral permission from the editorial board or the author. A hyperlink to the Adebiportal.kz portal is required. All rights reserved by the Law of the Republic of Kazakhstan "On Copyright and Related Rights". adebiportal@gmail.com 8(7172) 57 60 14 (in - 1060)
The opinion of the author of the article does not represent the opinion of the editorial board.